GlobServ is a partner of MphasiS, an international IT company with $1 billion in revenues and 38,000 employees. As a comprehensive and universal solution, Wynsure manages all insurance lines of business and covers all process domains.
Wynsure regularly gets outstanding assessments in major analysts' reports. For example, Celent believes Wynsure is a good choice for most insurers in North America, including large group carriers, and through its 25-customer basis, has been proven to enhance the business of leading insurers across the world.
Wynsure efficiently manages end-to-end processes with business capable rules configuration and straight through processing, thus ending the need to maintain multiple outdated legacy systems. Its multi-language and multi-currency capabilities ensure its use across regions; moreover, Wynsure covers all functional needs of an insurance player.
Wynsure deployment has flexible options including a web portal which allows customization of graphical interfaces and helps customers manage operations and distribution in a simple manner. It also offers all features of self-service capabilities for online subscription, contract management, claim declaration, etc.
Functional domains
Product Factory: Maximum flexibility for a diversified product portfolio and reduced time to market
Business staff can create new products or adapt existing products without intervention of your IT department

Support coverage of all lines of business

Test products in a test environment before delivery

Have products immediately available to sell to customers
Quotes: Faster response times to transform your sales
Deliver quotes to prospects

Manage the prospect's portfolio for the sales team

Reuse known data at enrollment
Policy: Comprehensive functionality for a complete management of the policy lifecycle
Manage policy through the whole cycle

Design contracts automatically from product configuration

Easily manage future and back-processing
Claims: Enhanced usability for optimized processes
Manage claims through the whole process from declaration to payment

Manage declaration of loss, benefit definition, and calculation

Automatically propose the concerned coverage

Deliver output of claims payment to the General Ledger
Billing and Accounting: A precise flow tracking for a better control of risk
Offer view of account per contract

Manage billing according to product specifications, by batch or manually

Manage the lapsing process and installments

Support retroactive billing mechanisms for endorsements

Support billing-specific features for group life
Commissions: A powerful tool to manage various distribution models
Manage commission contracts and relationships with brokers

Support unlimited levels of agents and agencies

Manage hierarchy among all parties involved
Reinsurance: A fully integrated module
Manage relationships and ceding treaties involving several reinsurers with different levels of involvement

Support reinsurance processes for both the ceding part and the reinsurer

Define rules of eligibility, reinsurance limits, cessions, etc.
Service Management: A customer-focus application for a better service quality
Get access to all client information, across all distribution channels. A user interface was especially created for call centers

Manage history, contracts, billing, accounting and generate reports by batch
Lines of business
An Integrated Solution for your Life Insurance Needs
Developed in partnership with leading insurers, Wynsure puts the tools you need in the hands of the business users. Wynsure Life provides full insurance administration processing for Carriers, TPAs, Agents, and Employer Groups. The integrated modules for Proposal, Customer Care, Product Workbench, Policy Administration, Claims, Billing/Accounting and Commissions can be implemented as a full system or as individual domains, allowing your system to grow with your business.
Full web access allows Agents/Brokers and Employer Groups to manage their own accounts, bills and employee census files.
Discover why other Wynsure clients have increased productivity by 40% and measured significant improvements in client satisfaction scores through an integrated system engineered to fit your business.
Features:
Available in all 50 states and Canada

Full web access

Multi-language

Multi-currency

One of the most scalable solutions on the market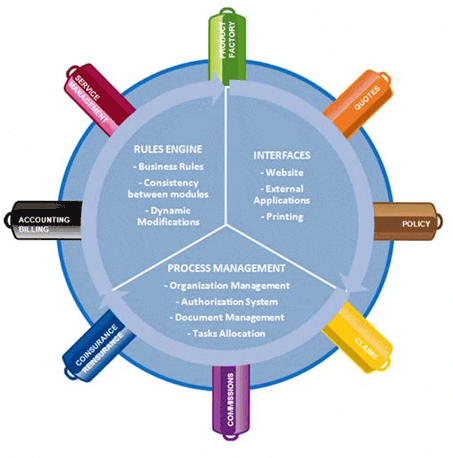 An Integrated Solution for your Property & Casualty Insurance Needs
Like our other modules, Wynsure P&C was developed in partnership with leading insurers, offering complete Commercial and Personal Lines administration processing for carriers. The integrated modules for Proposal, Customer Care, Product Workbench, Policy Administration, Claims, Billing/Accounting and Commissions can be implemented as a full system or as individual domains to meet your current and future needs.
Wynsure provides full versioning, which allows you to endorse the policy at any point in time (including out of sequence). It also manages all policy versions.
Features:
Available in all 50 states and Canada

Full web access

Multi-language

Multi-currency

One of the most scalable solutions on the market